BLS Healthcare Provider (Online)
04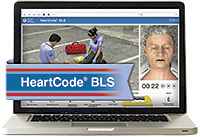 Blended Online Training
Online Blended BLS uses the latest eSimulation technology to enable students to assess and treat patients in virtual healthcare settings. Utilizing a variety of eLearning assets such as dramatizations, eSimulations, animations, self-directed learning, and interactive activities, this course teaches BLS knowledge and skills.

Once the cognitive portion of the course has been completed, students practice and test their skills with an AHA Instructor.
After successfully completing both the eLearning and hands-on session of the BLS Course, students should:
Pass online test
Print Completion Certificate
Schedule and Attend a Skills Check session (included)
All costs are non-refundable. 24 hours notice is required if unable to attend. Only one reschedule allowed. Reschedule at 678-525-8330 or eberryman@advancedcprtraining.com
How did you hear about us?
Skills Check Date Request